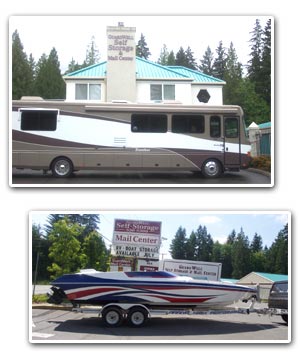 Several Pan,Tilt & Zoom cameras cover the site 24hrs/day. All pictures are recorded and displayed at the main site.
Invisible photo-electric beams operate 24 hrs/day and alert us immediately to any intruders on the site.
Cameras and photo-electric beams are integrated so cameras will automatically turn to the detected area of intrusion.
Barbed wire prevents intrusion over the top of our 6 foot fence.
Computer controlled and recorded gate access - at both entry and exit gates. You get a personal gate code.
Security company responds immediately to any intruders.
RV & Boat site is located in Fall City, 9 miles east of main site in Redmond. This is a new site opening July 2002.
10x20 boat covers are available for $20 per month.
Rent is month to month.
The 13th month is free if you pay for the first 12 months in advance.
A $10 setup fee will be required.
We need to see and copy the registration of all boats, trailers, RV's, as well as any cars that may be left in an RV spot.
All move-in paperwork must be done at our main site at 23316 NE Redmond - Fall City Rd.
All RV's, vehicles and boats stored must be in operating condition and not older than 15 years.
No vehicles can be towed in - they must be driven in.
| | |
| --- | --- |
| Sizes | Rate |
| 10'x20' | $70 |
| 10'x30' | $80 |
| 11'x40' | $90 |